RECREATION AND HEALTH-IMPROVING ATHLETICISM TRAINING OF STUDENTS IN HIGHER EDUCATION INSTITUTIONS
Ключові слова:
recreation, health, athleticism training-spells.
Анотація
Popular means of physical culture in the youth are the power exercises used at athleticism training-spells, meant for health-improving, development of physical fi tness, working capacity, decrease of psychoemotional stress. There was developed a special method for students trainings in recreation and health-improvement athletism with application of controlled and comfortable muscle loading for students taking into account their individual differences, abilities and requirements.
After experiment with Ruffye's test, anthropometry, Harvard step test, power exercises, health, activity, mood test provided and academic achievement data demonstrated signifi cantly higher indicators in the experimental group compared with the control group. The developed technology can be recommended for training-spells of students both throughout educational process in semester, and during examinations when the academic load especially increases.
Посилання
Nikulin, I.N. (2007, October). About relevance of development of technology weightlifting trainings of students with health-improving and recreative orientation // IV International scientifi c and practical conference «Physical culture and sport – a base sound lifestyle». – Tambov.
Park, S.Y. (1994). Theory and practice in leisure and recreation. – Seoul : Ilsin publishing.
Vinogradov, G.P. (1997). Theory and methods of recreational physical exercise : monograph. – St. Petersburg : SpbSAFC named P.F. Lesgaft.
Voronkov, A.V. (2009). Problem of control of training load at physical training lessons with a recreative orientation // First International scientifi c congress «Problems of sports education: contents, orientation, technique, organization». – Belgorod.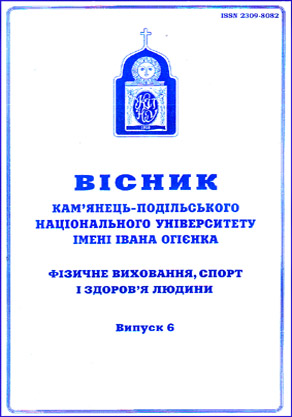 ##submission.downloads##
Як цитувати
Nikulin, I., Sobyanin, F., Voronkov, A., & Konik, A. (2013). RECREATION AND HEALTH-IMPROVING ATHLETICISM TRAINING OF STUDENTS IN HIGHER EDUCATION INSTITUTIONS. Вісник Кам'янець-Подільського національного університету імені Івана Огієнка. Фізичне виховання, спорт і здоров'я людини. https://doi.org/10.32626/2309-8082.2013-0.%p